Wireless Micro Projector Brilens P850 Quick Operation Guide.
1.1 Package Overview
Projector x1
Adapter x1
USB cable x1
Bluetooth remote control x1
Manual x1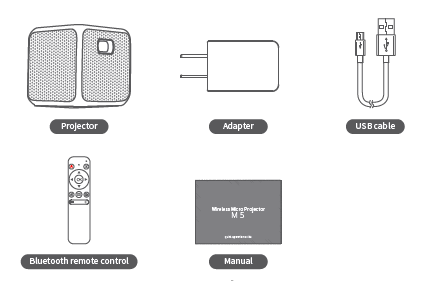 1.2 Interface Introduction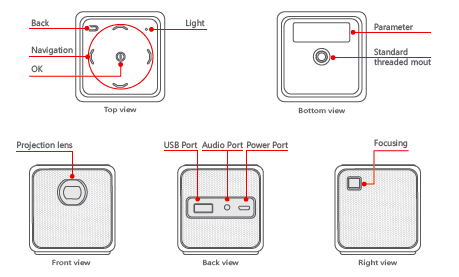 1.3 Remote
Bluetooth pairing mode
Press "ok" and "volume -" for 5 seconds, the
remote indicator light from flash to slow flash,
you can search the device。
Remote control indicator status description
Bluetooth Pair mode: Fast blink
Infrared mode: four times blink when operating
Bluetooth mode: one time blink when operating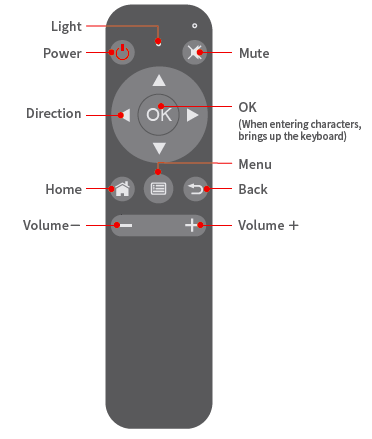 2.1 Turn on / off the projector
1. Turn on
Long press the power button for 5s, the device boot (Figure 1)
2. Turn off
Long press the power button 3s or long press the remote control
power button, the device shut down (Figure 1)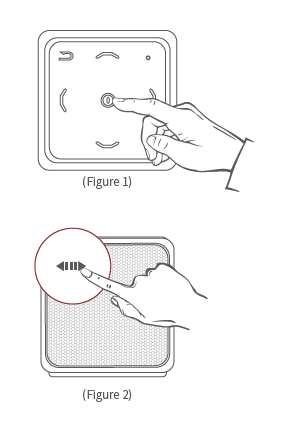 2.2 Focus / adjust brightness
1.Focus
Adjust the focus gear until a clear picture appears (Figure 2)
2. adjust brightness
In the main interface, select "Settings" - "show" - "brightness"
2.3 Pairing a Bluetooth remote control
Hold "OK" and "Volume" 5 seconds at the same time, then release.
Note: Controller should be worked within 15 feet.
Press the Back key to skip this step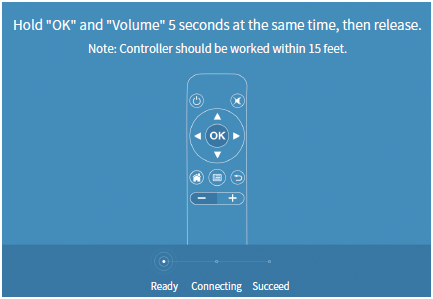 Pairing method:
After entering the remote control pairing interface, long press "OK" key and "volume -" key of for 5
seconds, then release and wait until the connection is successful.
2.4 Connect to a Wi-Fi network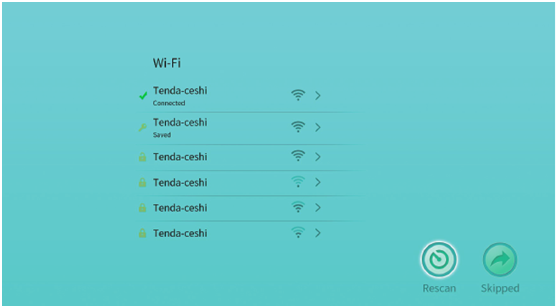 Press the Back key to skip this step
2.5 Operation of the main interface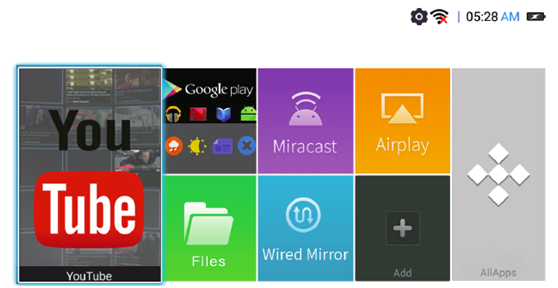 2.6 How to update the software (local upgrade / online upgrade).
Local upgrade
1. By browser to download the firmware update in the product's official website;
2. Copy the downloaded firmware update. zip file to the root directory of the U disk;
3. U disk access to the machine, the system will prompt the firmware upgrade after
identification;
4. Click on Installation to perform firmware update。
Online upgrade:
1Connect the device to the network;
2. Go to Settings - Generic - Online Update;
3. According to the prompt, click on the installation to update the firmware
2.7 How to charge
Connect the power adapter to the Micro USB charging connector (Figure 3 )。
The power indicator red light is on, indicating that it is charging.。
The power indicator blue light is on, indicating that charging has been
completed.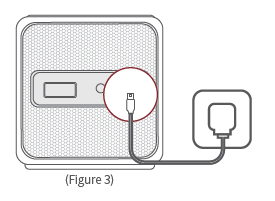 2.8 Operation of the main interface–Specifications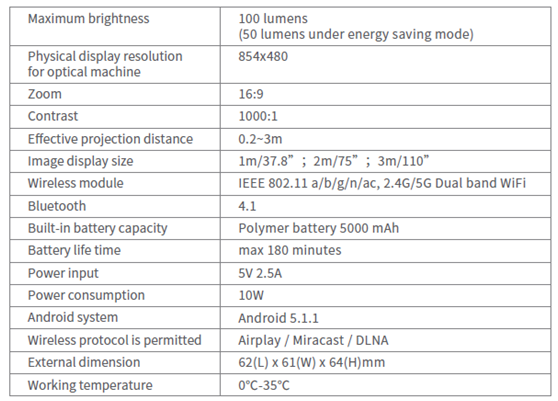 Note: The picture is for reference only, please prevail in kind!